Millennials: Is It Time to Buy a Bigger Home?
In today's housing market, all eyes are on millennials. Not only are millennials the largest generation, but they're also currently between 25 and 40 years old. These are often considered prime homebuying years when many people begin to form their own households and invest in real estate. If you're like many millennials who are spending much more time at home these days, you may have a growing need for more space or upgraded features, making moving more desirable than ever.
For those millennials who already own a home, there's a great opportunity to move up in 2021. Danielle Hale, Chief Economist at realtor.com, explains:
"Older millennials will be trade-up buyers with many having owned their first homes long enough to see substantial equity gains."
Even if you bought a home sometime in the last few years, you may have more equity than you realize, and that's a big factor to consider when you're thinking about moving. According to the Homeowner Equity Insights Report from CoreLogic:
"In the third quarter of 2020, the average homeowner gained approximately $17,000 in equity during the past year. This marks the largest average equity gain since the first quarter of 2014."
Growing equity can be the driver you're looking for to fund your next move, especially if what you need in a home is changing right now. As equity builds over time, it can be put toward the down payment on your next home.
In addition to equity gains, today's housing market affordability is powered by record-low mortgage rates, so moving at a time when you can get more for your money may be more realistic than you think.
Bottom Line
If you're a millennial thinking about moving this year, you're not alone. Let's connect to shed light on the equity you have in your current home and the opportunities it can create.
Multigenerational Housing Is Gaining Momentum [INFOGRAPHIC]
Some Highlights
If your house is feeling a little cramped with the addition of adult children or aging parents, it might be time to consider a move-up into a multigenerational home that better suits your changing needs.
With benefits that include a combined homebuying budget and shared caregiving duties, an increasing number of households are discovering the value of a multigenerational home.
With such high demand for houses today, now is a great time to sell so you can upgrade to a multigenerational home that may better suit your evolving needs.
If you have been out exploring Whidbey recently, you might have noticed an abundance of furry four-legged creatures. It's not much of a secret that Whidbey Islanders LOVE their dogs. As self-proclaimed "outdoorsy" people say, they are the perfect pet to have with you when hiking trails, swimming at the beach, and exploring places like the abandoned military installments of Fort Casey and Fort Ebey.
Although exploring all the crevices of Whidbey is amazing, dog owners know there is something special about enjoying time off-leash with their furry friends. Luckily, Whidbey has some INCREDIBLE off-leash dog parks scattered throughout the island. We have listed our favorites below!
Although this is one of the smaller parks on Whidbey, Clover Valley is well-loved and frequented by dog owners in Oak Harbor. The fully fenced-in park provides owners the opportunity to socialize their dog in a safe environment while they build friendships with other owners in the area.
View this post on Instagram
Patmore Pit is the largest off-leash dog park on Whidbey. This fully fenced 15 acres of mixed terrain allows owners and their pups the opportunity to enjoy themselves for hours. The park has 3 meadow areas, 2 wooded areas, an agility course, and a smaller area for more timid dogs.
View this post on Instagram
Anyone who has ever visited Greenbank Farm knows that the surrounding area is incredibly beautiful with views of our gorgeous waters on either side and an abundance of trails. But did you know there was an off-leash area? Just north of the farm, you will notice they sectioned out parcels of land for low-impact recreation including off-leash play! It's a wonderful place to explore if you get the chance.
View this post on Instagram
Have a water dog that LOVES to splash in the sea? Then you will love taking them to Double Bluff Beach. This location offers pets and owners a two-mile-long stretch of beach to play on without the nuisance of leashes to restrict your dog's enjoyment.
View this post on Instagram
This fully fenced 13- acre park offers dog owners peace of mind when allowing their dog to explore the various trails and meadows. Central gathering areas provide owners the ability to socialize with others while their dogs play.
View this post on Instagram
MAP
:
Where Does Your Drinking Water on Whidbey Island Come From?
WATER IS A PRECIOUS COMMODITY
As Whidbey's premier real estate brokerage, I get asked about our Island's drinking water A LOT! Why? Water is a precious commodity, and one of the essentials of life. Knowing where your water comes from should be a primary concern of someone thinking about living on an island.
WATER ON WHIDBEY ISLAND
Many people who move to Whidbey have never experienced life with a well and even those who have rarely understand the implications that a well surrounded by saltwater might have. With the exception of the City of Oak Harbor and NAS Whidbey Island, who get all their drinking water piped in from the Skagit River (yes, it travels under the Deception Pass bridge), the rest of the island depends on tapping into our skinny Island's network of underground aquifers.
WHAT IS AN AQUIFER?
Think of an aquifer as a of pocket of freshwater, or more like a saturated sponge. Under the surface, sometimes DEEP under the surface, these pockets have enough permeability to absorb new water that seeps through the layers of dirt, rock, and gravel of the ground but can also store enough water to keep from running dry. Maybe a visual would help…
The problem with the graphic above for Whidbey Island is we are not on bedrock and we have very few large lakes. In fact, we are surrounded by saltwater which can become a real issue for saltwater intrusion when removing a large amount of freshwater from an aquifer too quickly.
WHAT IS SALTWATER INTRUSION?
Saltwater intrusion is a condition in which saltwater enters an aquifer and contaminates the water supply. The intrusion occurs when too much water is pulled from the aquifer, too fast. The reduction in pressure pulls in saltwater from the surrounding shoreline, ultimately contaminating the freshwater. Take-a-look at the graphic below for a better understanding.
Source: https://www.usgs.gov/media/images/process-saltwater-intrusion
HOW TO PREVENT SALTWATER INTRUSION
One way to prevent saltwater intrusion is to slowly and steadily remove freshwater from the aquifer and store it so when demand spikes, like during summer, the sucking from the aquifer doesn't become so intense that it pulls the saltwater in. Think of a straw poked into the pocket of freshwater. If you suck too hard it will pull saltwater in from the surrounding sea.
Another important activity is to regularly monitor wells across the island and collect enough data to see signals of wells that have a higher risk of saltwater intrusion than others.
HOW IS IT PREVENTED ON WHIDBEY?
Here in Island County, we are so incredibly lucky to have a full-time hydrogeologist, Doug Kelly. Doug has a very rare and critical position. He has helped develop a data-gathering system and monitoring program that helps to give Island County residents early warning signs if their well is at risk and provides them with steps to take to prevent that from happening.
WHERE DO I GO TO FIND OUT MORE?
There is a phenomenal database that anyone can access on Island Counties website called ICGeo and with the layer for wells turned on you can see where all the wells on Whidbey are located. Within a few clicks, you can also get a report that is hyperlinked with all sorts of additional information and a great color code to quickly gain a bunch of info on the health of the water.
If this gets too confusing and you want info on a specific well call me 360.320.7634.
If You Enjoyed Reading This Blog You Might Also Like:
>
Are We About to See a New Wave of Foreclosures?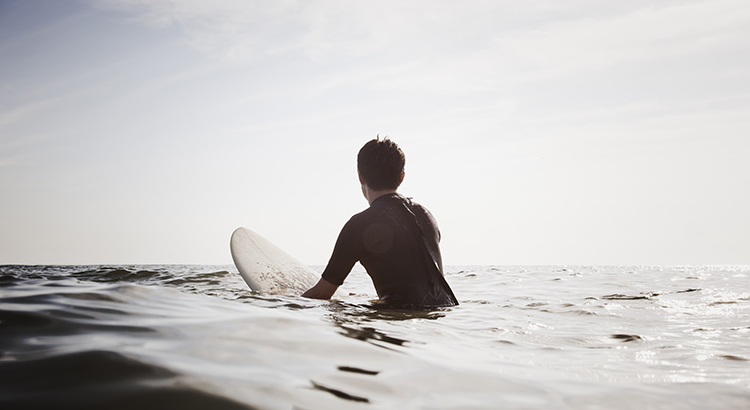 With all of the havoc being caused by COVID-19, many are concerned we may see a new wave of foreclosures. Restaurants, airlines, hotels, and many other industries are furloughing workers or dramatically cutting their hours. Without a job, many homeowners are wondering how they'll be able to afford their mortgage payments.
In spite of this, there are actually many reasons we won't see a surge in the number of foreclosures like we did during the housing crash over ten years ago. Here are just a few of those reasons:
The Government Learned its Lesson the Last Time
During the previous housing crash, the government was slow to recognize the challenges homeowners were having and waited too long to grant relief. Today, action is being taken swiftly. Just this week:
The Federal Housing Administration indicated it is enacting an "immediate foreclosure and eviction moratorium for single family homeowners with FHA-insured mortgages" for the next 60 days.
The Federal Housing Finance Agency announced it is directing Fannie Mae and Freddie Mac to suspend foreclosures and evictions for "at least 60 days."
Homeowners Learned their Lesson the Last Time
When the housing market was going strong in the early 2000s, homeowners gained a tremendous amount of equity in their homes. Many began to tap into that equity. Some started to use their homes as ATM machines to purchase luxury items like cars, jet-skis, and lavish vacations. When prices dipped, many found themselves in a negative equity situation (where the mortgage was greater than the value of their homes). Some just walked away, leaving the banks with no other option but to foreclose on their properties.
Today, the home equity situation in America is vastly different. From 2005-2007, homeowners cashed out $824 billion worth of home equity by refinancing. In the last three years, they cashed out only $232 billion, less than one-third of that amount. That has led to:
37% of homes in America having no mortgage at all
Of the remaining 63%, more than 1 in 4 having over 50% equity
Even if prices dip (and most experts are not predicting that they will), most homeowners will still have vast amounts of value in their homes and will not walk away from that money.
There Will Be Help Available to Individuals and Small Businesses
The government is aware of the financial pain this virus has caused and will continue to cause. Yesterday, the Associated Press reported:
"In a memorandum, Treasury proposed two $250 billion cash infusions to individuals: A first set of checks issued starting April 6, with a second wave in mid-May. The amounts would depend on income and family size."
The plan also recommends $300 billion for small businesses.
Bottom Line
These are not going to be easy times. However, the lessons learned from the last crisis have Americans better prepared to weather the financial storm. For those who can't, help is on the way.
Three Reasons Why This Is Not a Housing Crisis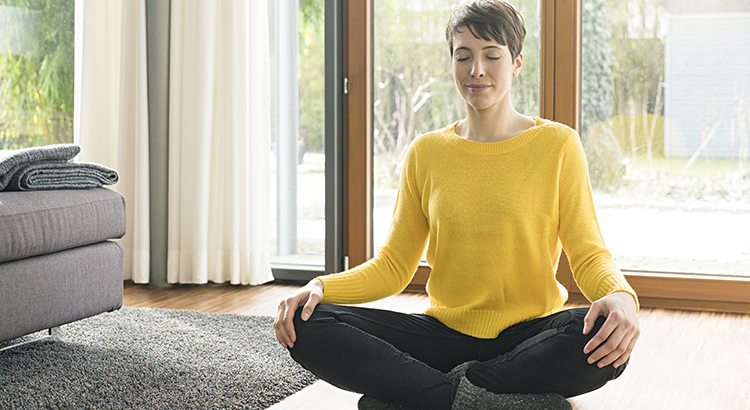 In times of uncertainty, one of the best things we can do to ease our fears is to educate ourselves with research, facts, and data. Digging into past experiences by reviewing historical trends and understanding the peaks and valleys of what's come before us is one of the many ways we can confidently evaluate any situation. With concerns of a global recession on everyone's minds today, it's important to take an objective look at what has transpired over the years and how the housing market has successfully weathered these storms.
1. The Market Today Is Vastly Different from 2008
We all remember 2008. This is not 2008. Today's market conditions are far from the time when housing was a key factor that triggered a recession. From easy-to-access mortgages to skyrocketing home price appreciation, a surplus of inventory, excessive equity-tapping, and more – we're not where we were 12 years ago. None of those factors are in play today. Rest assured, housing is not a catalyst that could spiral us back to that time or place.
According to Danielle Hale, Chief Economist at Realtor.com, if there is a recession:
"It will be different than the Great Recession. Things unraveled pretty quickly, and then the recovery was pretty slow. I would expect this to be milder. There's no dysfunction in the banking system, we don't have many households who are overleveraged with their mortgage payments and are potentially in trouble."
In addition, the Goldman Sachs GDP Forecast released this week indicates that although there is no growth anticipated immediately, gains are forecasted heading into the second half of this year and getting even stronger in early 2021.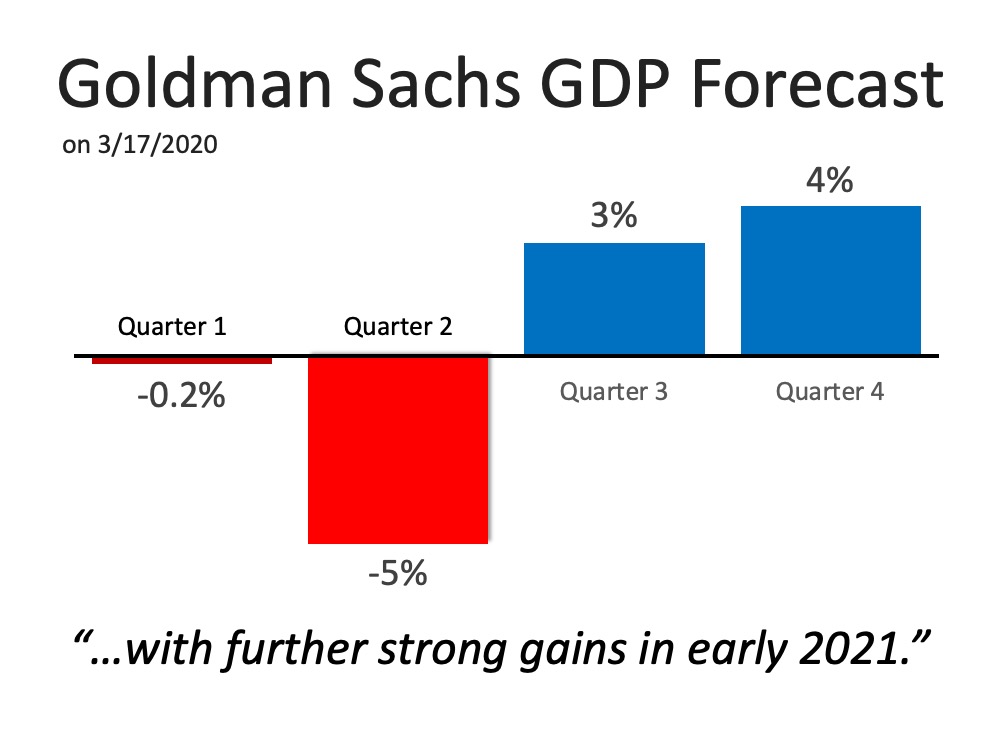 Both of these expert sources indicate this is a momentary event in time, not a collapse of the financial industry. It is a drop that will rebound quickly, a stark difference to the crash of 2008 that failed to get back to a sense of normal for almost four years. Although it poses plenty of near-term financial challenges, a potential recession this year is not a repeat of the long-term housing market crash we remember all too well.
2. A Recession Does Not Equal a Housing Crisis
Next, take a look at the past five recessions in U.S. history. Home values actually appreciated in three of them. It is true that they sank by almost 20% during the last recession, but as we've identified above, 2008 presented different circumstances. In the four previous recessions, home values depreciated only once (by less than 2%). In the other three, residential real estate values increased by 3.5%, 6.1%, and 6.6% (see below):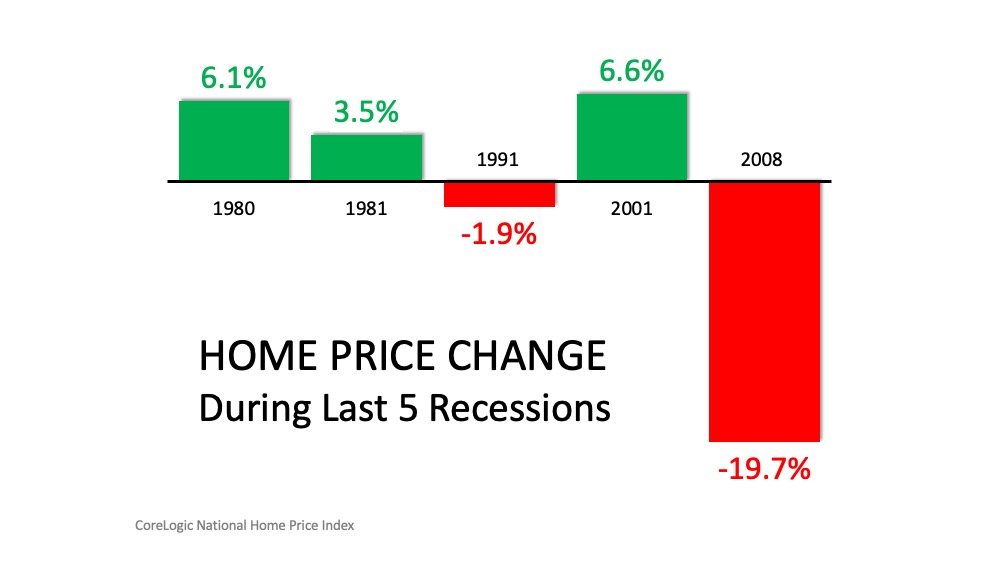 3. We Can Be Confident About What We Know
Concerns about the global impact COVID-19 will have on the economy are real. And they're scary, as the health and wellness of our friends, families, and loved ones are high on everyone's emotional radar.
According to Bloomberg,
"Several economists made clear that the extent of the economic wreckage will depend on factors such as how long the virus lasts, whether governments will loosen fiscal policy enough and can markets avoid freezing up."
That said, we can be confident that, while we don't know the exact impact the virus will have on the housing market, we do know that housing isn't the driver.
The reasons we move – marriage, children, job changes, retirement, etc. – are steadfast parts of life. As noted in a recent piece in the New York Times, "Everyone needs someplace to live." That won't change.
Bottom Line
Concerns about a recession are real, but housing isn't the driver. If you have questions about what it means for your family's homebuying or selling plans, let's connect to discuss your needs.
Have you heard the buzz that we have another new business downtown Oak Harbor?  Whidbey Made has definitely made a splash and made their presence known on Whidbey Island.
Whidbey Made, owned and operated by Brian Noel, is a small shop on Pioneer Way in Oak Harbor.   They are selling all things made on Whidbey Island. We have Chocolate, Fudge, Jam, Honey, Wine, Ceramics, Woodwork, Children's Books, Candles, Jewelry, Blown Glass, Hats, Scarves, Cards, Soap, Leatherwork, and much more.  https://www.facebook.com/whidbeymade/
2020 Homebuying Checklist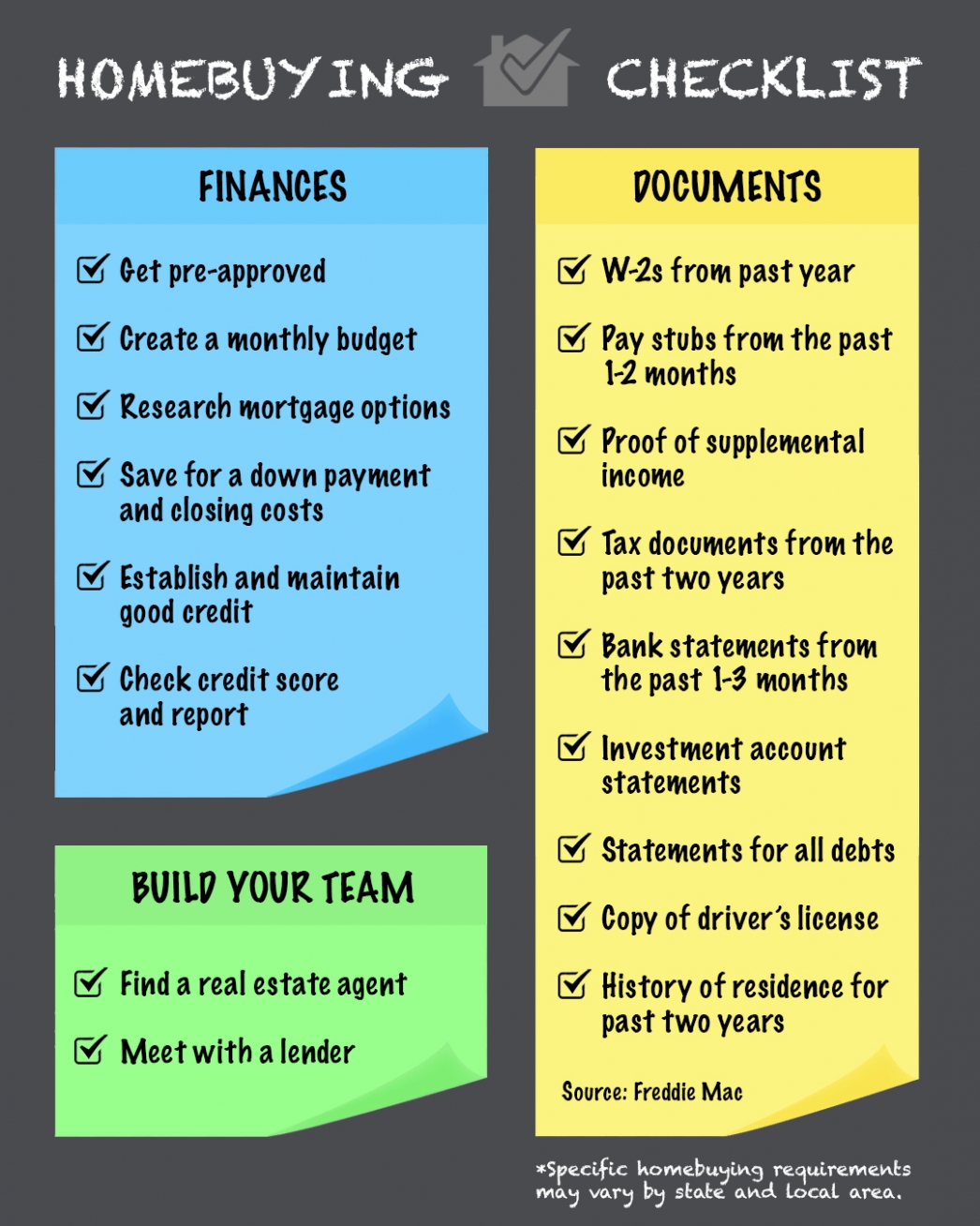 https://youtu.be/eSqLyv5VNws
Some Highlights:
If you're thinking of buying a home, plan ahead and stay on the right track, starting with pre-approval.
Being proactive about the homebuying process will help set you up for success in each step.
Make sure to work with a trusted real estate professional along the way, to help guide you through the homebuying steps specific to your area.